Workload Optimisation:

Fully automated 5-part differential haematology analyser offering diagnostic scalability. This benchtop system is a combination of two analysis modules and is equipped with a Rerun & Reflex sampler, which makes it a superb solution for basic and extended testing.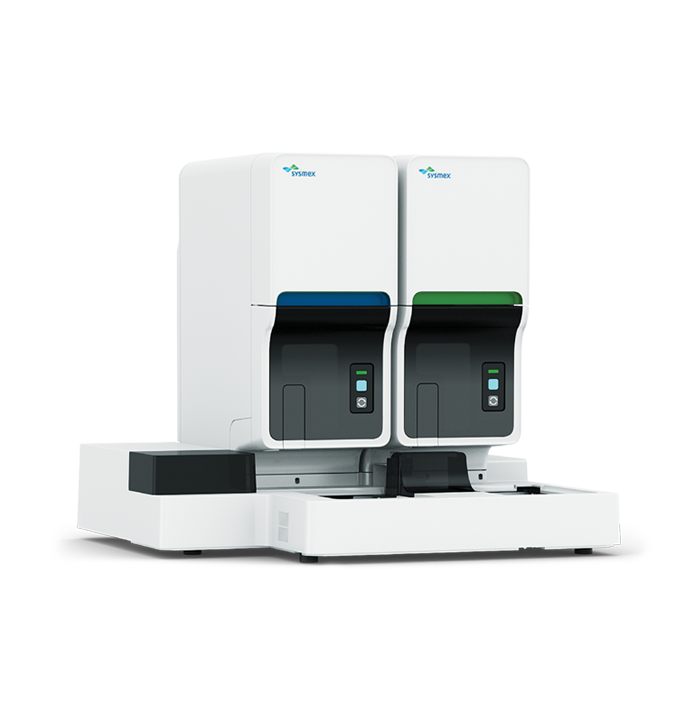 Hourly capacity of up to 200 samples per hour

Unique co-primary solution

Automatic workload balancing between the 2 analysers

Reagent sharing option is available

A floor-standing wagon for system and reagents is optional.
For all haematology analyser and haematology systems sales enquiries in New Zealand, please contact Roche Diagnostics (NZ) Ltd by clicking their logo below:

The XN-2000 system is a combination of two analytical modules capable of processing 200 samples per hour. Equipped with all the available diagnostic applications and an enhanced sample processing, this standalone-compact solution offers productivity and greater security as one can act as a back-up solution anytime. A complementary XN-20 system can be combined with the XN-10- providing improved differentiation of abnormal WBC population
Measurement principles

WBC DIFF/RET/PLT-F/WPC: Fluorescence Flow Cytometry
RBC/PLT: Hydrodynamically focussed impedance
HGB: Cyanide-free SLS haemoglobin

Aspiration volume
88 µL in whole blood (WB) mode and body fluid (BF) mode
Throughput
up to 200 samples/h
Quality control
XN Check (three levels) and XN Check BF (two levels)
Parameters

XN-CBC (always with NRBC) & XN-DIFF (always with IG)
Whole Blood
WBC, NRBC%, NRBC#, RBC, HGB, HCT, MCV, MCH, MCHC, PLT, RDW-SD, RDW-CV, MicroR%, MacroR%, PDW, MPV, P-LCR, PCT, NEUT%, NEUT#, LYMPH%, LYMPH#, MONO%, MONO#, EO%, EO#, BASO%, BASO#, IG%, IG#
With RET (optional)
RET%, RET#, IRF, LFR, MFR, HFR, RET-He, RBC-He, Delta-He, HYPO-He%, HYPER-He%, PLT-O
With PLT-F (optional)
PLT-F, IPF, IPF#
With WPC (optional)
Extended Inflammation Parameters licence: NEUT-GI, NEUT-RI, RE-LYMP%, RE-LYMP#, AS-LYMP%, AS-LYMP#
XN Stem Cells licence
HPC%, HPC#
Body Fluids with XN-BF
WBC-BF, RBC-BF, MN%, MN#, PMN%, PMN#, TC-BF#(optional)

Configurations

XN-2000 [DIFF]
XN-2000 [WPC]
The XN-2000 system is a combination of two analytical modules capable of processing 200 samples per hour. Equipped with all the available diagnostic applications and an enhanced sample processing, this standalone-compact solution offers productivity and greater security as one can act as a back-up solution anytime. A complementary XN-20 system can be combined with the XN-10- providing improved differentiation of abnormal WBC population

Measurement principles

WBC DIFF/RET/PLT-F/WPC: Fluorescence Flow Cytometry
RBC/PLT: Hydrodynamically focussed impedance
HGB: Cyanide-free SLS haemoglobin

Aspiration volume
88 µL in whole blood (WB) mode and body fluid (BF) mode
Throughput
up to 200 samples/h
Quality control
XN Check (three levels) and XN Check BF (two levels)
Parameters

XN-CBC (always with NRBC) & XN-DIFF (always with IG)
Whole Blood
WBC, NRBC%, NRBC#, RBC, HGB, HCT, MCV, MCH, MCHC, PLT, RDW-SD, RDW-CV, MicroR%, MacroR%, PDW, MPV, P-LCR, PCT, NEUT%, NEUT#, LYMPH%, LYMPH#, MONO%, MONO#, EO%, EO#, BASO%, BASO#, IG%, IG#
With RET (optional)
RET%, RET#, IRF, LFR, MFR, HFR, RET-He, RBC-He, Delta-He, HYPO-He%, HYPER-He%, PLT-O
With PLT-F (optional)
PLT-F, IPF, IPF#
With WPC (optional)
Extended Inflammation Parameters licence: NEUT-GI, NEUT-RI, RE-LYMP%, RE-LYMP#, AS-LYMP%, AS-LYMP#
XN Stem Cells licence
HPC%, HPC#
Body Fluids with XN-BF
WBC-BF, RBC-BF, MN%, MN#, PMN%, PMN#, TC-BF#(optional)

Configurations

XN-2000 [DIFF]
XN-2000 [WPC]