A Student Innovation To Tackle Cognitive Challenges In Health Informatics Wins This Year's Sysmex Award.
Daniel Surkalim, a third year Bachelor of Health Sciences degree student, has won the Sysmex Award for Health Informatics for his business case essay proposing the use of a graphical relational integrated database (GRID) system that would allow for easy information retrieval and comprehension of patient and clinical data, facilitating a more efficient patient information management system.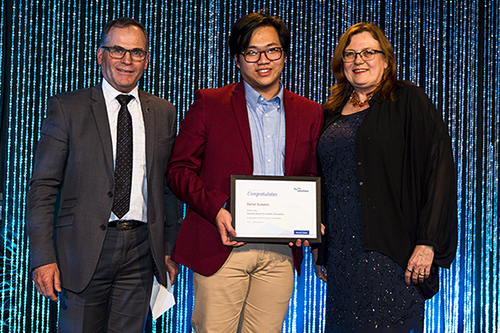 The Sysmex Award for Health Informatics was established in 2011 and aims to inspire inventive thinking and encourage excellence in health informatics education. It is open to students undertaking their third year of a Bachelor of Health Sciences (BHSc) degree at The University of Auckland. Sysmex and the university collaborate to define an assignment question, which this year asked students to 'create a business case for an innovation, using an evidence-based approach that would fit with, and add value to, the proposed national EHR strategy'. Following review from a judging panel comprised of Sysmex and Auckland University representatives, three finalists were shortlisted based on their innovation, use of technology and feasibility.
Often considered a low priority, usability issues can be a major obstacle in the successful adoption of electronic health records (EHR). Daniel's business case proposed the use of a graphical relational integrated database (GRID), run in parallel to a standard relational database, that could take the vast amount of patient data accumulated; transforming and storing it so that it would be easier for healthcare providers to retrieve and understand, thus ensuring more efficient and informed patient care.
David Fallas, Senior Software Consultant and participant on the Sysmex judging panel said, "Daniel has correctly identified a number of deficiencies in many current EHR systems which he referred to collectively as 'cognitive challenges' (aka UI usability problems). I thought the proposal was extremely interesting and Daniel should be given every encouragement. It is forward-looking and proposes adoption of modern graph database technology to address known issues with today's EHR systems."
A new feature to this year's competition was the Sysmex Award Finalist Showcase where three finalists, Daniel, Kyle Frank and Frances Toohey, presented their business cases during a lunchtime session at the HiNZ conference on Wednesday 2nd November. The session, chaired by Karen Day (Senior Lecturer, Health Informatics, Auckland University), offered the student finalists a wonderful opportunity to impress the audience with their creative thinking, originality and practicality of their innovative business cases.
As the award winner, Daniel received a cash prize and entry to the 2016 HINZ Conference where the award was presented by Scott Arrol, CEO of NZ Health IT, during the gala dinner event.
"The true value of Health informatics, as a field of study, goes relatively unacknowledged in the day-to-day operations of the health system. Yet it is such an integral part of the technologically-driven future of health care," said Daniel following the award presentation, "With globalisation and the rapid evolution and integration of technology into everyday lives, the Sysmex Prize asked for my own prospective view of what I thought the future of health care would be like. This provided me with an opportunity to put all the theory I have learnt thus far, into a real-life practical scenario. It was an honour to be awarded the Sysmex Prize for Health Informatics. Simply competing for it has reaffirmed my desire to explore this field in postgraduate study, and hopefully work in this sector, as I genuinely believe that embracing technology in health care is required for improving the quality of patient care and overall population health."
Details of previous winners of the Sysmex Award for Health Informatics can be found here.