Integrated Digital Morphology Solution:

Integrated Digital Morphology Solution: The DI-60 is an optional module that can be integrated into the XN-systemisation line allowing cellular assessment thru an automated pre-classification and pre-characterisation of cells. With an automated cell image analysis, the DI-60 provides a more standardised differential results reducing subjectivity and allows efficient collaboration with real time access to cell images.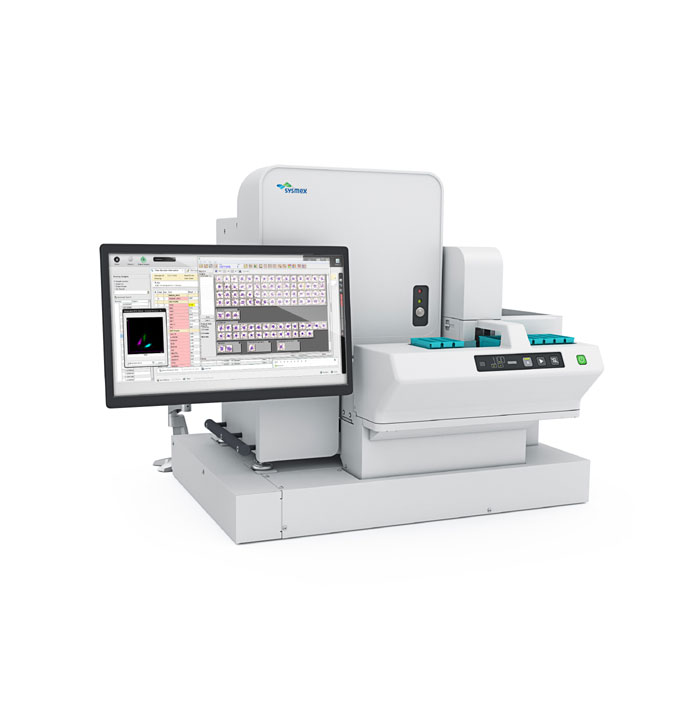 The DI-60 compact integration platform performs WBC pre-classification, RBC pre-characterization and platelet estimation
Automated digital pre-classification and pre-characterization of cells

Digital scanning of the whole stained slide

Remote review applications for multi-expert referral and collaboration

Supports skill expansion via a comprehensive reference library and access to historical patient images and comments

Optional applications such as Body Fluid, Advanced RBC and Remote Review software
For all haematology analyser and haematology systems sales enquiries in New Zealand, please contact Roche Diagnostics (NZ) Ltd by clicking their logo below:

The Sysmex DI-60 is a digital cell imaging analyser that can be connected to the Sysmex XN-3000/XN-3100, XN-3100/ XN-9100 systems providing a fully integrated haematology solution that meets your laboratory's needs. As part of the XN systemization portfolio, the DI-60 enhances not only the lab's productivity but it also promotes consistency and standardization of the cell differential results thru an automated pre-classification and pre-characterization of cells.
It facilitates easy collaboration and consultation between morphology experts, creating flexible and cost-effective utilisation of staff and resources through the Sysmex remote review software.
Throughput

Peripheral Blood: Up to 30 slides/hour (100 WBC + RBC + PLT)
Body Fluid: based on 5x5mm area
Up to 40 cytospsin slides/hour (100 WBC 10x overview)

Technology
Artificial Neural Network
Slide identification
Barcode labelled slides
Storage capacity
Up to 4000 slides per database
Supported Stains

Romanowsky stains
RAL MCDh stains
May Grünwald – Giemsa
Wright
Wright – Giemsa

WBC Pre-classification
segmented and band neutrophils, lymphocytes, monocytes, eosinophils, basophils, metamyelocytes, myelocytes,promyelocytes, blasts, variant lymphocytes, plasma cells, non-WBC: smudge, artefacts, giant platelets, platelet clumps, erythroblasts
RBC Pre-characterisation
aniso-, micro- and macrocytosis, poly- and hypochromasia, poikilocytosis
Body Fluid
segmented neutrophils, eosinophils, lymphocytes, macrophages (incl. monocytes), basophils, Other
Slide Scan
Scanning of user definable areas of aslide
Options

Sysmex Remote Review Software
Sysmex Body Fluid application
The Sysmex DI-60 is a digital cell imaging analyser that can be connected to the Sysmex XN-3000/XN-3100, XN-3100/ XN-9100 systems providing a fully integrated haematology solution that meets your laboratory's needs. As part of the XN systemization portfolio, the DI-60 enhances not only the lab's productivity but it also promotes consistency and standardization of the cell differential results thru an automated pre-classification and pre-characterization of cells.

It facilitates easy collaboration and consultation between morphology experts, creating flexible and cost-effective utilisation of staff and resources through the Sysmex remote review software.

Throughput

Peripheral Blood: Up to 30 slides/hour (100 WBC + RBC + PLT)
Body Fluid: based on 5x5mm area
Up to 40 cytospsin slides/hour (100 WBC 10x overview)

Technology
Artificial Neural Network
Slide identification
Barcode labelled slides
Storage capacity
Up to 4000 slides per database
Supported Stains

Romanowsky stains
RAL MCDh stains
May Grünwald – Giemsa
Wright
Wright – Giemsa

WBC Pre-classification
segmented and band neutrophils, lymphocytes, monocytes, eosinophils, basophils, metamyelocytes, myelocytes,promyelocytes, blasts, variant lymphocytes, plasma cells, non-WBC: smudge, artefacts, giant platelets, platelet clumps, erythroblasts
RBC Pre-characterisation
aniso-, micro- and macrocytosis, poly- and hypochromasia, poikilocytosis
Body Fluid
segmented neutrophils, eosinophils, lymphocytes, macrophages (incl. monocytes), basophils, Other
Slide Scan
Scanning of user definable areas of aslide
Options

Sysmex Remote Review Software
Sysmex Body Fluid application