Scalable Automation Solutions:

The XN-9000 series is a family of scalable automation solution that provides comprehensive workflow advantages to the laboratory by combining high throughput analytical module, a slide making/staining system and an automated tube sorting/archiving solution all in one package. The integration of digital morphology solution completes the story of enhanced functional efficiency and productivity perfectly fitting a high workload laboratory.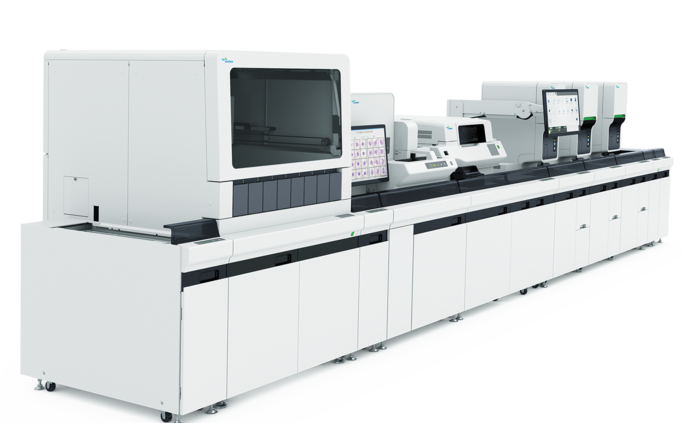 The XN-9000 series is a compact integration of system modules consisting of the CBC analytical module (XN-series), slide-making/staining module (SP-10), digital cell imaging (DI-60) and tube sorting (TS-10) system. The XN-9000 series fits any high workload laboratories with different operational needs regardless of size, complexity and specialty. Equipped with cutting-edge functionalities, advanced software algorithm and onboard rules allow for an accurate and efficient analysis of patient samples without compromising turnaround times (TAT).
The modularity concept of the XN-9000 series allows new modules to be easily added to an existing configuration to meet the increasing workload of the laboratory. It also affords a linear, L-shaped or U-shaped configuration to accommodate existing building fixtures such as pillars or water supply points without the laboratory undergoing any major renovations. The XN-9000 flexibility and connectivity to all major TLA systems gives it an added advantage. With changing clinical demands, the XN-9000 analytical modules offer diagnostic application of advanced clinical parameters such as Ret-He, IPF, IG and NRBC, etc
Scalable Automation Solutions + Advanced Clinical Parameters (ACP) = Enhanced efficiency, higher productivity and better patient care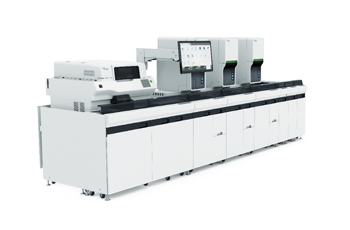 Initial XN-9000 configuration:
Hourly throughput
– XN-Series x 3 : up to 300 test
– SP-10 x 1: up to 120 slides*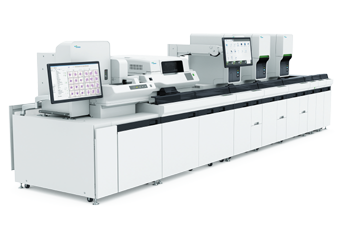 Addition of DI-60:
Additional Hourly throughput
– DI-60: up to 30 slides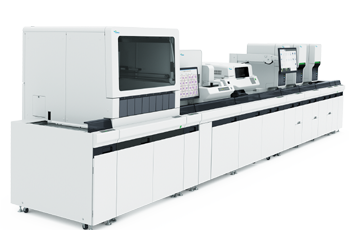 Addition of TS-10:
Additional Hourly throughput
– TS-10: up to 500 tubes
– TS-10 upgrade: up to 1,000 tubes
The XN-9000 series is a compact integration of system modules consisting of the CBC analytical module (XN-series), slide-making/staining module (SP-10), digital cell imaging (DI-60) and tube sorting (TS-10) system. The XN-9000 series fits any high workload laboratories with different operational needs regardless of size, complexity and specialty. Equipped with cutting-edge functionalities, advanced software algorithm and onboard rules allow for an accurate and efficient analysis of patient samples without compromising turnaround times (TAT).

The modularity concept of the XN-9000 series allows new modules to be easily added to an existing configuration to meet the increasing workload of the laboratory. It also affords a linear, L-shaped or U-shaped configuration to accommodate existing building fixtures such as pillars or water supply points without the laboratory undergoing any major renovations. The XN-9000 flexibility and connectivity to all major TLA systems gives it an added advantage. With changing clinical demands, the XN-9000 analytical modules offer diagnostic application of advanced clinical parameters such as Ret-He, IPF, IG and NRBC, etc

Scalable Automation Solutions + Advanced Clinical Parameters (ACP) = Enhanced efficiency, higher productivity and better patient care

Initial XN-9000 configuration:

Hourly throughput

– XN-Series x 3 : up to 300 test
– SP-10 x 1: up to 120 slides*

Addition of DI-60:

Additional Hourly throughput

– DI-60: up to 30 slides

Addition of TS-10:

Additional Hourly throughput

– TS-10: up to 500 tubes
– TS-10 upgrade: up to 1,000 tubes