Sysmex FHIR-API for Access to COVID-19 RAT and PCR Testing Records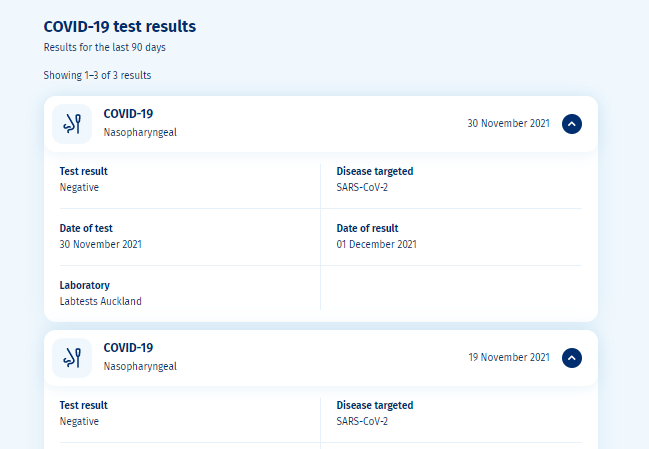 New Zealanders can view their COVID-19 PCR test results plus Rapid Antigen Test (RAT) results on the My Covid Record website, made available via a Sysmex developed FHIR-based API solution.
The FHIR-based API draws testing data in real-time from the national COVID-19 test record repository, ESR Eclair, enabling positive and negative PCR and RAT results from the database to be displayed within My Covid Record.
The successful integration of ESR Eclair with My Covid Record provides New Zealanders with central access to their COVID test results and vaccination records digitally, when available.
Primary care providers including pharmacy staff and GPs are reporting their patient's RAT results to the Ministry of Health, using the online form available in ESR Eclair. Relevant information including the date of the test and test result, symptoms, and details of the care provider supervising the RAT are captured in the form.
Once reported, the system sends an automated text message to the test recipient notifying them of their result, using the validated mobile number stored against their patient record in ESR Eclair.
"With RATs now diagnostic and the primary testing method, Eclair's RAT reporting forms have been widely used throughout the community" says Paul Clarke, Programme Manager of Eclair at Sysmex.
Self-reported RAT tests can also be viewed immediately on the My Covid Record website and are transferred via an API to ESR Eclair. As the single source of truth for COVID testing data, ESR Eclair helps to inform the daily figures reported to the Ministry of Health to better understand the current state of the outbreak.
The result here enabled through FHIR-based response marks a positive stride forward in improving patients' access to health records. Sysmex will continue to leverage FHIR to deliver interoperable data sharing solutions from our product suite, for more complete view of a patent's lab history.
Read the article covered by HINZ here.